Reviewing the bangalorian blogger meeting
Juli 13, 2007
Well, last Saturday Nimbu and me indeed tried to meet up with some bloggers from Bangalore. It was supposed to be at (Coffee Day – chain) on MG road. Upon that most Indians have a different feeling of time regarding fitting an appointment at a particular point of time; we were about 12-20 minutes behind the time. We got that coffee day and figured out a lot of people there but who is a blogger and who is not? We went creative; just draw a sing saying: "Looking for the blogger meet up!" (see below)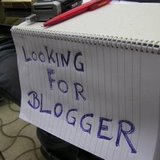 And showing it around. People seemed to be very interested they started asking: "What the heck are you guys looking for?" Though at least we got to opportunity to explain what a blog is and enabled us to talk a couple of sentences about blogging. ;-)

 

The next day two friend of mine were contacting me: "Well, how was the blog meeting? You know what I found the article in that newspaper reporting on the blogger meeting there is also a picture with it but why are you not on it?" If you started reading the article, I figured out why we didn't meet up the blogger. The expected amount of people were double the size so that the location must been change before we arrived. But great now I know there are still Indian who count on time.

Looking forward to join the next bangalorian blogger meet-up on the 21st of July.
One Response to "Reviewing the bangalorian blogger meeting"
Sanjukta on Juli, 22 2007 at 09:53

Hey Britta, that's such a sad thing you missed the previous which happend on 7th July meet…that had actually kick started all the action you saw yesterday. I had no clue about you guys' attending the meet so when we moved the venue (due to lack of space at CCD) I didn't realise we were leaving you guys behind…

Nevermind, good you told people about blogging.. man I want the whole world to blog..

It was great to see you guys there, you come along for something which is a city specific thing.. shows you have a sense of belonging.. no matter how short your stay is… Thanks.

See you guys at the barcamp.. putting you on the Blog'a'lorean Mailing list.
Leave a Reply