Januar 26, 2008
Just shortly before the next European championship Handball-Match in Norway starts, I would like to remind you on the next date for Webmontag in Duesseldorf coming up on 28. Januar 08.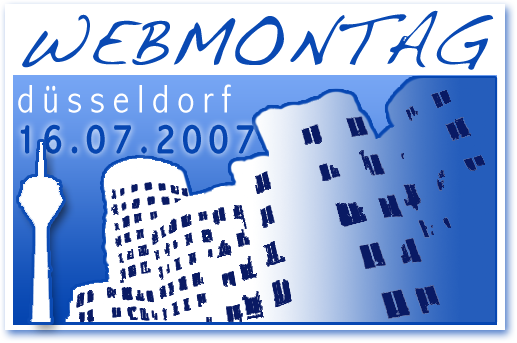 Four presentations are already listed:
What is a "steam-engine"? A try to explain the term "Enterprise Portal".
Web-Trend-Research in China
Knowledge-Management how it work with fun – Knowledge Garden
Styleranking – the new virtual home for fashion victims.
Additionally there is a "Special Program: peak web" Which will be a discussion if we already reached the end of a carefree evolution of the networking?! Between iPhone and 23andme, between Flickr and 'Vorratsdatenspeicherung', between Cyborg and Platons Höhle; Information technology enters all life areas and the question comes up whehter we still could live without the web,  without networking, without virtual reality and the virtual ME (…) ?
Chances & Risks of the global networking, Aggregation of every smallest Information-node. The Discussion between the participants of the Webmonday an Prof. Dipl.-Dram. Linda Breitlauch, Prof. Dipl.-Des. Oliver Wrede, Prof. Lorenz Lorenz-Meyer as well as Siggi Becker will give an status report on that issue.
Looking forward to it. See you there!