zeitgeisty – a project of creative commons advocates
August 28, 2007
Regarding the last blog entry and the drawn distinction between Copyright, Creative Commons and the Public domain, I would like to introduce and arise awareness on a German bunch of people who work hard under the name of "zeitgeisty" on spreading the message about Creative Commons Licenses and explaining their intention not only to the web affine nerdy kind of people also to "off-liner" – creative people express creativity in paintings, sculptures or photographs.
"zeitgeisty" is used as an adjective in the English language and stands for "the spirit of the age". Zeitgeisty as defined in the German Wiktionary describes the idea of an entire generation or era – the attitude of majority of a society.
Well, it is obvious that the pure restrict copyright isn't appropriate to the digital age anymore – where copying and changing e.g. pictures and articles is made to quickly and easily. See above the zeitgeisty logo and what I did within 20 seconds to make it clear what i am talking about. The Creative Commons Licenses (CCL) loosen the restrictive boundaries of the copyright by making it directly visibly for the users (just those who already know about CC) what he is allowed to do with the certain 'creative' work and what not. It must not necessarily be a art or creative work also applies to diploma theses, blogs and books. The new division od the CC-Organization is called ccLearn.
The "zeitgeisty" crew is planning an event similar to the open music contest (unfortunately a German website). The open music contest was held in Marburg organized by a student organization, only for band which publish their songs under a CCL. Zeitgeisty focuses on activities, events and exhibitions where people are interacting in creativity. For example one person takes a photo which will be developed and another person develops it further while using a spay can. Not only photos also paintings and etc. lots of ideas are already popping up in their minds. One thing is important, because they try to reach the off-liner all activities we be detached from computer.
They are still seeking for exhibition premises and also people who share their philosophy of free content and open source lifestyle. It is again the matter of PARTICIPATION.
How the single copyright C can be converted into the more or less open CC license can be found here or here in German.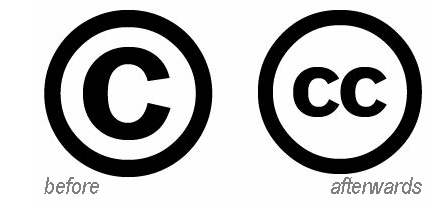 I already started using CCL for this blog, for my diploma thesis – I decided to go for a By- Noncommercial-Share Alike attribution. And wait, I also publish my flickr picture under a CCL.
2 Responses to "zeitgeisty – a project of creative commons advocates"
nicole on August, 28 2007 at 22:25

hi bridge, thanks for this realy cool article! nice one! you should link to kai's blog post as well. hope ur doing well, rock on.

webtohuwabohu.de » "Story of Stuff" on Februar, 05 2009 at 09:58

[…] Spread the message about Story of Stuff it's important to draw peoples attention to this topic make them aware of their everyday stuff consumption. There is a group on facebook you can join or post the video on your  blog, it is under a creative commons license.  I explained it in an earlier post on my blog. […]
Leave a Reply