Short Review of TECH cocktail 6 Chicago
November 19, 2007
Last Wednesday we visited TECH cocktail 6 in Chicago. I would like to tell you a short and funny story ahead. I am new to the US of A that's why I am not used to carry my ID (passport) always by my side. Well, I figured out quite quickly that, that isn't a good idea because you always get in trouble while entering pubs, clubs or events where beer and any other alcoholic drinks are served.
To get permission to enter this event I got a special wrist band which indicated that I was not allowed to drink any beer. Just to let you know not only the entry was for free the beer is as well-Thanks to the Sponsors at this point. Well I had a great time anyway I felt already drunk because of my jetlag. Now let's go on with the important and interesting information.
One of my favorite services presented that evening was Songza. What is Songza? It is a music provider / platform / search engine. Like they exits in thousands on the web e. g. Last.fm, Bit Torrent, KaZaa, Rhapsody? No, Songza differs from all the others in a few ways. First of all Songza isn't a platform rather than a music search engine. A special algorithm enables the user to find songs and artists available somewhere on the internet. Songza puts a user interface layer on top of the search results which provides the user the opportunity to create play lists very easily.
The usability and the design of this user interface layer is clear and very convenient. That's why their inventors call it a "human interface" they want to indicate how user really use and navigate on websites or applications.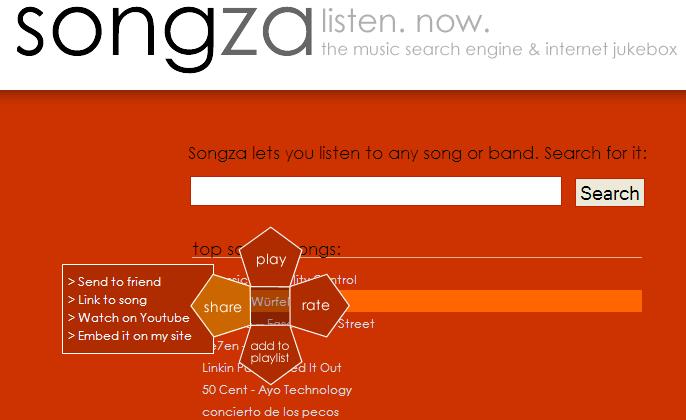 To listen to a certain artist just type the name into the search field press the search button and you will be offered a list of songs where you can choose from. They offer a few more opportunities what to do with the song. You can add it to a play list which isn't storable right now. Or you can share the song with a friend while sending an email, further you can just link or embed the song into your blog and decide if it should start playing while opening the site or only on demand. You can also directly go and see the music video on youtube as far as it is available. Brilliant usability – just one click on the song title and hover the cursor over one of the four provided options and easily do what you want to do with the song.
A huge advantage is that Songza can be used without subscribing and doesn't cost a penny. This way the very often criticized issue oft subsciption is avoided. I like it very much – you should go check it out!
Some more information on the company it self are available here. On altsearchengine blog you find different translations, the German one is my masterpiece. ;–)
Leave a Reply